Play Like a Champion, Everyday!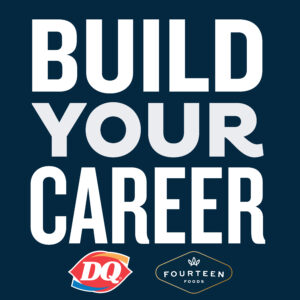 Smile servers and supporters, we need you! Whether you are looking to connect with your community through a local restaurant position or a corporate role within the Fourteen Foods family, the opportunities are endless.  As a multi-unit owner and operator of 200+ DQ Grill & Chill® restaurants and Dairy Queen Braziers in 13 states, we are one family, with one mission – to support our communities, one red spoon and smile at a time.
We invite you to explore our career opportunities and join the Fourteen Foods family by selecting either the restaurant opportunities or corporate positions link below.
Curious what positions we offer at the restaurant level? Opportunities include team member roles and leads, shift and assistant managers, general managers, and director and VP level roles. Corporate positions range from information technology, facilities, and finance/accounting, to marketing, HR, and talent engagement. 
While COVID-19 announcements and operations updates can be found here, we are actively engaging with prospective talent and encourage you to apply, or take advantage of upcoming virtual interviews, when available.
If you are a former Fourteen Foods seasonal smile server and interested in 2020 seasonal employment, please connect with our talent team today via email FFRecruiting@FourteenFoods.com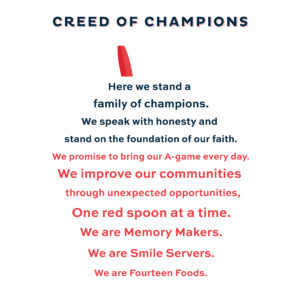 Are you ready?
Do you lead with integrity?
Are you looking to pursue your passion?
Do you seek to exceed expectations and be accountable?
Are you flexible and adaptable?
But most importantly, are you ready to play like a champion?