At Fourteen Foods, we are extremely grateful for our smile servers, and their friends and family mean the world to us too! To show our appreciation, we've created a sweet offer for team members, friends, and family! This is an exclusive offer valid throughout the month of July!
Show this page on your phone at any one of our Fourteen Foods DQ® locations to receive a FREE Mini Blizzard with the purchase of a combo meal between July 10th – July 31st!
Don't have a smartphone? A printed copy of this offer can be shown at your local Fourteen Foods DQ®.
Use this discount as much as you'd like before July 31st, with a limit of one per visit/transaction. No cash value. All copyright and trademark requirements apply. 
And don't forget to capture the smiles and tag your favorite Fourteen Foods DQ® on Facebook, Instagram, or Twitter! #HappyTastesGood #RedSpoonSalute #WeAreFamily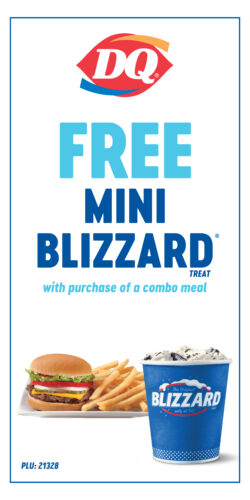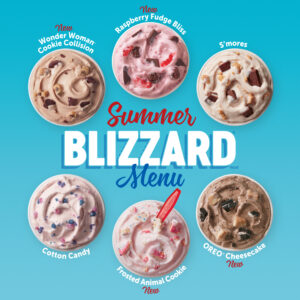 Which new flavor will you choose?
Four new flavors, six incredible options, endless summer smiles!
Wonder Woman Cookie Collision
Raspberry Fudge Bliss
S'mores
Cotton Candy
Frosted Animal Cookie
Oreo Cheesecake
And don't worry, our original flavors are still available! 
July Blizzard of the Month!
Nestle® Drumstick® pieces, chopped peanuts, and chocolate all blended in our signature DQ® soft serve!