Honor Their Sacrifice. Educate Their Legacy.
Fourteen Foods has been a proud supporter of Folds of Honor in their mission to provide educational scholarships to spouses and children of America's fallen and disabled service-members. Since its inception in 2007, Folds of Honor has awarded approximately 24,500 scholarships to military families.
Every year, Fourteen Foods seeks new and innovative ways to support Folds of Honor and the families they serve. During a 2019 initiative, our valued communities raised a total of $201,050 for the organization, which provided more than 40 scholarships for military families across the country. Donation boxes are also present at every Fourteen Foods DQ® location, providing more than $14,000 in support since April 2020. This year, the smile servers at Fourteen Foods are eager to continue our support with a new and exciting Folds of Honor campaign July 27th – August 30th. 
Three Ways to Make an Impact
Now through August 30th, Fourteen Foods has partnered with Folds of Honor and has created three easy ways to support local military families.
100% of proceeds go directly to Folds of Hono
r
.
The below initiatives will be available at ALL Fourteen Foods DQ® locations July 27th – August 30th!
Round Up For Heroes
$5 Unlimited Misty® Slush Keytag
Custom, Limited-Edition Hats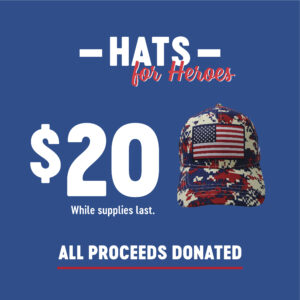 Find Your Favorite
Fourteen Foods Dairy Queen!