Passion and Purpose
Whether working through trying global times or passionately supporting our communities, Fourteen Foods is committed to brightening days and making memories, one red spoon at a time. We have been blessed to witness truly inspiring moments, and have compiled a few fan favorites that depict the strength and resiliency of the incredible communities we support. Let's continue to make memories, together, one red spoon and act of kindness at a time. 
For an overview of Fourteen Foods targeted Pay It Forward initiative on April 6-7th 2020, please click here. 
The Gift that Keeps on Giving
Spring Valley, Minnesota – April 2020, Shared via Fourteen Foods General Manager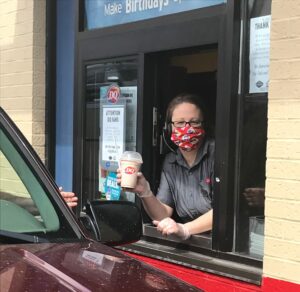 Spring Valley is a rural Southern Minnesota town with a close knit community and a relentless work ethic. The General Manager of our Fourteen Foods restaurant was proud to kickstart the day with a Pay It Forward boost for the first customer/fan of the day. That one small act created a positive chain reaction from that point forward.  EVERY CAR FOR THE REMAINDER OF THE DAY PAID IT FORWARD resulting in over 140 cars with smiling faces!  What a strong and connected community that we are blessed to be a part of!
Chore Allowance Impact
Shakopee, Minnesota – April 2020, Shared via Fourteen Foods General Manager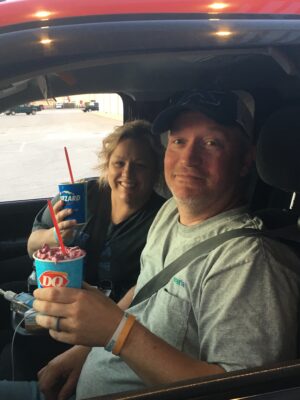 As a company, Fourteen Foods amplified the Pay It Forward efforts amongst local communities with a kickstart initiative for two days.  However, on the first day of this initiative, before the local Shakopee General Manager even had the chance to pay it forward, a father and his children started a truly selfless and glorious chain reaction.
The order consisted of three mini blizzards and was paid with a $50 bill.  While being cashed out, the father asked that our team put the remaining funds on a gift card. The team member asked what occasion message on the gift card would best suit their needs. To our surprise, the father replied with the following para-phrased statement, "My children just got done doing chores, so they were not only rewarded with ice cream, but a valuable lesson as well. I wanted to teach them that when times are tough, it is important that we reach out to help others, so we would like you to use their chore money to pay it forward to each customer that comes through until the gift card is empty." In complete shock, our team told the father about the Fourteen Foods pay it forward initiative and explained how their actions were truly commendable. We may be memory makers, but little does the customer and DQ fan know that they are memory makers for the entire community. Today, the Fourteen Foods Shakopee location was beyond grateful for  our valued fans, team, and community.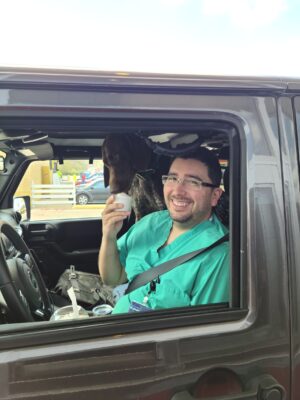 Pay It Foward, 98+ Times and Growing
Bardstown, Kentucky – March 2020, Shared via Fourteen Foods General Manager
A little before 8pm, a nurse came through our drive-thru. She shared that her regular visits would normally include her children, but due to her role as a nurse during COVID-19, she was unable to see her children and family. After this exchange, she graciously paid for not one, but three cars in line behind her. She said that since she couldn't be with family, her goal was to help others enjoy their time with those they love. 
After this tiny ripple in the pond that was started by this selfless woman, 98 cars paid it forward. 98 cars came through the drive-thru and every single car paid for the next car in line. The last car came through just after close and left our team $10 because she didn't the kindness to end with her.  Our team then started the next morning with $10 to pay it forward. 
The power of one small act of kindness grew to an unprecedented level. The Fourteen Foods team shared the story with every car that came through after this gracious nurse. The team shared moments of awe, tears, smiles, and laughs. The Fourteen Foods team made such a connection within the community, and each other, through this experience. The team shared a series of moments unlike any other. The team cheered and celebrated throughout, and truly witnessed how beautiful people can be.  We hope this story fills you with the joy that we felt tonight. God's light filled the Bardstown Dairy Queen this evening. Pass it on!
Since this post was generated, the above pay it forward community effort has continued for three straight days and resulted in 900+ cars. Check out the local news story here!
Community Heart
Maryville, TN – March 2020, Shared via Assistant Manager
With COVID-19 adjustments, the Maryville, Tennessee Fourteen Foods team thought of a sweet community touchpoint which included displaying store-made hearts in DQ windows for kids and fans to find during walks, while social distancing.  The hearts were made from recycled store paper products and signed by all smile servers. This heartfelt effort allowed the local Fourteen Foods team to engage with the community and have a little fun while doing so! Heartfelt communication and engagement at its finest!
Honor and Pride
Fourteen Foods Restaurant-Wide Initiative – May 2019
The Folds of Honor's mission is to provide educational scholarships to spouses and children of America's fallen and disabled service-members. Fourteen Foods was overwhelmed with the positive responses from nearly every community within our 200+ store footprint. Participating DQ fans volunteered to round their DQ order to the nearest dollar with ALL proceeds going to Folds of Honor during this month long initiative. During that period, our valued communities raised a total of $201,050 for the organization, which provided more than 400 scholarships for military families across the country. An effort like this is only made possible by our engaged smile servers and giving fans.