Donation/Sponsorship
Fourteen Foods is committed to brightening days and making memories one red spoon at a time. We look forward to being an active member within our communities and are excited to offer you many different opportunities to partner with DQ!  Fourteen Foods takes pride in serving our communities by partnering with local organizations offering donations and fundraising opportunities focused around schools, youth sports, churches and libraries.
Our passion drives us to be memory makers and be smile servers!
Folds of Honor
Help us support Folds of Honor.  Earn your badge of honor by joining the Squadron of Wingmen. The patriots who commit to supporting military families each month, year-after-year.
Check out how our 2020 Folds of Honor Campaign went here!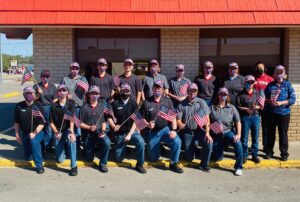 Children's Miracle Network
Help us support the Children's Miracle Network.  Visit their website to learn about giving, volunteering and how you can help fund activities in your local community.